What is Aloe Vera?
Often called the `Miracle Plant' or the `Natural Healer', Aloe Vera is a plant of many surprises. It flourishes in warm and dry climates, and many people mistake it for a cactus, but in fact, it is a member of the lily family. The leaves of the Aloe Vera plant are harvested and the inner part, the gel, is extracted. Aloe Vera is legendary for its healing properties and its therapeutic advantages, which have survived for more than five thousand years.
There are over two hundred varieties of Aloes, but it is the Aloe Barbadensis Miller (Aloe Vera) plant, which has been of most use to mankind because of its medicinal properties. Ancient records show that the benefits of Aloe Vera have been known for centuries.
Nowadays, although medicines and drugs are prescribed for many different ailments, these often come with side effects. Consequently more consumers and therapists are turning back to look at more traditional and natural therapies. As a result, Aloe Vera is once again attracting attention, as we are more aware now, than ever before, of its powerful properties, which help to maintain a healthy lifestyle. Hardly a week goes by without the many benefits of Aloe Vera being highlighted in the 'health' pages of major national newspapers and magazines.
Fact – Aloe Vera contains anti-inflammatory and pain killing properties
Fact – Aloe Vera is anti-bacterial, anti-fungal and anti-viral
Fact – Aloe Vera helps to support the immune and digestive systems
Fact – Aloe Vera contains a large range of minerals and vital minerals
Fact – Aloe Vera contains 19 of the 20 vital amino acids needed by the bod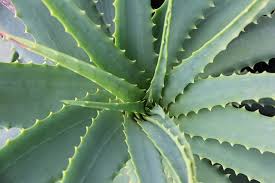 Good Quality Aloe Vera.
If you slice an apple and leave it open to the air, the fruit quickly
discolours, so it is with Aloe. Once the leaf is cut, the process of
oxidation begins and if left unchecked, would rob the precious
gel of many of its beneficial properties.
Stabilisation is the method of preserving the gel, in a state as close as possible to its original form, without losing the original potency and effectiveness of the fresh leaf. The method of Stabilisation is very important, it is also vital that when the gel is extracted from the plant that the method used is by the 'Cold Pressed' method, ensuring that all the goodness is captured and not spoiled by heat treatment.
The soothing properties of Aloe Vera, which is present in Aloe Lips, are ideally suited to caring for your lips, protecting them against the sun and wind. Aloe Lips contains the finest ingredients, such as jojoba oil and beeswax, to make what we believe, is the most effective all-season lip care product available today.Aloe Lips soothes, smoothes and moisturises chapped and dry lips and can help to keep cold sores (herpes) at bay. It provides protection even in the most extreme weather conditions. The benefits don't stop there either.
Aloe MSM Gel will help to soothe painful, stiff joints and muscles, bringing benefit to sufferers through the anti-inflammatory and pain-killing properties. MSM (Methyl-sulphonyl-methane) is a naturally occurring source of organic sulphur, a key component of connective tissues and joints. It is found in every cell in the body and as well as having an anti-inflammatory and painkilling action, it assists in cartilage repair.
The main ingredient of this product is stabilised Aloe Vera Gel together with MSM and other herbal extracts. It is a clear, non-staining gel, which can be applied liberally to the skin, over the painful joint or muscle and massaged well in. The Stabilised Gel gives this product the ability to penetrate deep into the skin, taking the MSM into the affected tissues. MSM, which is derived from tree bark, has been used successfully for many years to treat strains and sprains. It will also aid flexibility, tone and strength to damaged muscles, bones and joints.
Directions for Use:
Rub liberally into the affected area when necessary, at least twice a day, following the instructions for the Aloe Vera Gelly.
Applied topically, Aloe Vera Gelly is very effective for all types of skin problems and is particularly beneficial in the treatment of minor burns and sunburn. Especially prepared for topical application to moisturise, soothe and condition, Aloe Vera Gelly is a clear, thick gel containing humectants and moisturisers, excellent rubbing compounds for getting pure, stabilised Aloe Vera Gelly into the skin – it is almost like applying the gel directly from the leaf. It is totally absorbed by the skin and so promotes healing without staining clothes. The translucent Gelly is quickly absorbed and is wonderfully cooling and soothing, it can relieve itching, swelling, pain, inflammation and soreness. It's also extremely effective in reducing the swelling, soreness and itching that is often associated with scar tissue; Aloe Gelly will also help to reduce unsightly scarring, where other products and treatment have failed.
Is It Safe?
Because of its natural properties, Aloe is safe enough to use on children, the elderly and those with sensitive skin. It is gentle enough to use on the most delicate areas of the body, therefore it's cooling, healing and soothing properties will also alleviate sore gums and ease any discomfort, burning and uncomfortable, itching or soreness in the genital area.
Aloe Vera Gelly can be helpful with the following problems:
• Impetigo                                                                                                                
• Acne
• Chicken Pox
• Sore Gums
• Athletes Foot
• Piles & Thrush
• Eczema & Psoriasis
• Cuts, Wounds, Bites & Stings
• Minor Burns, Scalds & Sunburn
• Genital Soreness & Irritation
• Sooths & Cools Inflamed Skin Conditions
• Scar Tissue
Because of its versatility with so many problems, it is ideal for First Aid Kits; why not keep a tube in the bathroom and one in the kitchen also – don't forget to take one with you on holiday or when you are out for the day, on the beach or in the countryside. It is ideal for those little accidents, i.e. burns or sunburn, cuts, bites or stings.
Directions for Use:
Apply Aloe Vera Gelly to affected area, i.e. a burn, skin rash, gums or scar tissue etc. Rub well in; reapply after five minutes, then use as often as necessary; with scar tissue, use as frequently as possible. *When treating a minor burn or scald, ensure that you place the Aloe Vera Gelly on the affected area as soon as possible; if treated quickly enough, the Gelly should ease the pain immediately and help to stop the burn from blistering, it will also help to prevent scarring. Please contact us if you require more detailed instructions on how to use the Gelly. Due to the excellent quality of the Gelly, it is only necessary to use small amounts; therefore it is very economical and cost effective.
Introducing the new Aloe Activator
Aloe Activator was first introduced by the manufacturers as an enhancement to use with various Aloe Vera beauty treatments, but it soon became obvious that it was much more versatile and had wonderful healing powers with problems connected to the ears, eyes, nose and throat.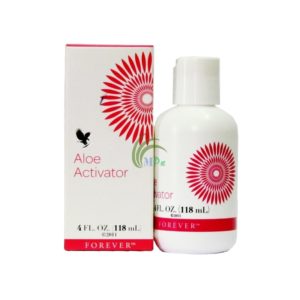 What is Aloe Activator?
When the leaf of a mature Aloe Vera plant is filleted, the large piece of solid Gel sits in a pale amber liquid, this liquid is combined with the Aloe Vera juice to make this very powerful formula.
Is it safe?
Because of its natural properties, Aloe is safe enough to use on children, the elderly and those with sensitive skin and also delicate areas of the body, i.e. eyes, nose, ears, throat and mouth. However, you may find when applied to the eyes or up the nose, you may experience a little burning, this will soon pass and the after effects, especially with Hay Fever, are well worth the slight discomfort you may feel.
How can it be used?
Aloe Activator is very effective when used with problems associated with the eyes, ears, nose and throat. Some of the problems it can help with are listed below:
Directions for Use:
For use in the eyes: for hay fever or irritations etc., pour a little Activator into an eye bath and bathe each eye for a few minutes, repeat as often as necessary. N.B. When using Activator for irritations or infections in the eye, please remember to wash the eye bath after each use and use fresh Activator for each eye, to prevent cross contamination.
For use in the ears: for earache, excessive wax, *eczema of the inner ear or other infections, use the 'puffer spray', (which can be purchased from Life Long Products), spraying a little into each affected ear, repeat when necessary. *As it is advisable with this condition, not to get too much liquid into the ear, it is best to mix a little of the Activator with the Aloe Vera Gelly, which will ensure that you have a thicker constituent. This mixture may have to be used with a 'dropper' with a large enough opening to allow the mixture to be placed into the ear.
For use in the nose: for hay fever, spots, sores or other irritations of the nose. Use the 'puffer spray', (which can be purchased from Life Long Products), to spray a little Activator into each affected nostril, breathing in gently whilst spraying.
For use in the throat or mouth: for sore throats, squeeze a little Activator directly from the container or the 'puffer spray' (which can be purchased from Life Long Products), into the throat, leave and gargle for a while, please note that it is quite safe to swallow the Activator and this could add to the healing process. For mouth ulcers and other sores of the mouth, spray some Activator from either the container or the 'puffer spray' into the mouth, hold the liquid in the mouth for a few minutes, swishing it around as you do so, once again, it is quite safe to swallow the Activator and this could add to the healing process.
If any stinging is experienced, when using the Activator in the eyes or the nose, this will not be harmful, just a little uncomfortable. Not everyone will experience stinging, but the benefits from the Activator far outweigh any slight discomfort that may be felt.