My name is Dr. Elizabette Cohen and I have been practicing high quality medicine and surgery in New York since 1988. I am the WCBS 880 news radio vet delivering "Healthy and Happy Pet" reports heard every Saturday and Sunday on the radio and internet. I am the author of Most of My Patients Wear Fur, Tales of Small Animals and Their Big City Vet. This site is all about helping you keep your pet healthy, happy and free of visually impairing eye conditions including cataracts and glaucoma.
Dr. Elizabette Cohen is a New York licensed and U.S.D.A. accredited veterinarian who practices in New York City and Long Island. She lectures on many animal-related subjects and offers her services to several non-profit organizations. She is a pet expert and behavior modification consultant. Dr. Cohen received her cum laude B.A. degree from Columbia University and her D.V.M. degree from Cornell University. She has helped animals her whole life. Dr. Cohen has been the WCBS news radio pet reporter since 2004 and continues to deliver "Healthy and Happy Pet" reports heard every Saturday and Sunday on WCBS880.com worldwide and WCBS 880 AM radio in New York, New Jersey, Connecticut and Pennsylvania. She lives in New York with her husband, two children and two dogs.
---
JOEY JUMPS FOR JOY!
There's one extremely happy kangaroo in the Broome Wildlife Sanctuary down under.
The kangaroo was almost blind due to cataracts but, thanks to Ethos Bright Eyes Drops for Pets, from Ethos Schweiz LLC in Geneva, the kangaroo can now see again.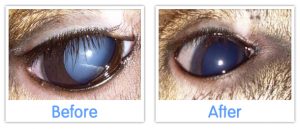 Here's the letter of thanks from Jan Martin, who found the drops while searching on the internet and contacted the company who very kindly sent a course of treatment to help the stricken animal.
Hi Peter,
I have attached 2 photos of before and after using the drops. I have at least 3 animals developing cataracts at the moment and hoped I could take you up on your offer – will need at least 50 bottles. I have also been slowly convincing people that the drops are effective.
Thanks,
Jan Martin
Kimberley Wildlife Consultancy
Broome – Western Australia
---
Ethos Bright Eyes Drops were originally developed for people but work equally as well with pets and other animals as clearly demonstrated by the photographs above. Instead of invasive surgery, a simple course of eye drops, containing the special ingredient N-Acetyl-Carnosine, are applied to each eye being treated, and these then go to work and dissolve the cataracts naturally.
Cataracts is a cross-linking of proteins in the lens of the eye and the Bright Eyes Drops reverse this cross-linking and restore the lens of the eye back to full clarity.
The average course of treatment, when treating two eyes, is six boxes applied over a period of six weeks. More severe and mature cataracts will require a longer course of treatment and mild to moderate cataracts can be cleared in less time.
Bright Eyes NAC Drops drops also help other eye conditions including; Glaucoma, Age-Related Macular Degeneration (AMD), Dry Eye Syndrome and Floaters.
---
Peter:
You and your company are a class act , and it is really refreshing to deal with such an organization.
From the beginning, we had lots of questions regarding your drops, how to use them most effectively, and whether they would really improve the eyesight of our best friend, Rambo. At 17 years old, you can imagine how much we love him. He has lost his teeth (we feed him soft food by hand), he is deaf, and he has completely lost his sight due to cataracts. Up until a year ago, he could see reasonably well, but 6 months ago we realized that he had completely lost his sight, because he continues to walk into walls.
We continue to worry about his quality of life, and we have talked about when, if ever, is the right time to let him go, and put him to sleep. But we believe that he still loves life, as he loves to still play with us, still is active, and has a great personality. We're sure that he is still happy, and we take great care of him. At the point when he becomes lethargic, clearly in pain, etc, we will have to make that difficult decision.
When we read about your eye drops, we were so excited. To be honest, we were a bit skeptical. But after reading your entire website several times, and sending you numerous e-mails with many, many questions with responses from you that were prompt, detailed, and open, we knew we had to give it a try. Cost was not an issue, as we would gladly have even payed for surgery, if he wasn't so old, and under great risk if he were to be put under anaesthesia.
Unfortunatly, in Rambo's case, the drops didn't work. But I really think that it is because of his age, and there has just been too much damage at this point. I would recommend your product to anyone else who might have a pet that is developing, or had recently been diagnosed with cataracts. I wish we would have learned of your product several years ago, as I'm confident that they might have been in time to correct Rambo's problem.
I sent you an e-mail only 24 hours ago with the disappointing news that the drops had not been effective for Rambo, and your company has already credited the entire purchase price. No questions asked, no demand for invoices or empty bottles, and no hassle… I am really impressed.
Thanks again for the quality of your organization,
Kerry Lienberger
---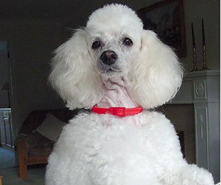 A friend of mine, Dr Hodgkinson, ordered some Bright Eyes drops for his dog Zoe who had cataracts back in October. Zoe is nearly 15 and he didn't want to put her through the trauma of an op at her stage in life. Six weeks later Dr Hodgkinson was back on the phone saying that Zoe had barked at a horse outside the window for the first time in ages.
When I spoke to him after another six weeks he told me she is able to see other dogs now, he can tell as she now barks and has interaction with other dogs whereas beforehand she would not seem to notice them. (Dr Hodgkinson asked me to mention that his qualifications are electrical engineering and not medical.)
I've attached a picture he sent me of her so you can see what she looks like !
---
"IT'S A MIRACLE My Beautiful dog 'Faith' can see again! "
My Beautiful dog 'Faith', a miniature Schnauzer, became blind with Cataract 9 months ago and as she is also deaf her sight was especially precious to her.
After using your Bright Eyes drops for just two weeks the improvement is a MIRACLE.
She can not only make out shapes, she is also more alert and can make it to her food before the younger Schnauzer can muscle in. This is after just TWO!! weeks.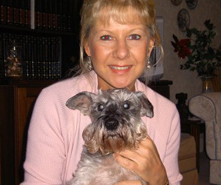 We look forward to her continued improvement and we can't thank you enough.
I am telling dozens of people about your product and wish you every success.
Susan Peel x
Stockport, Cheshire
---
"Eye Drops Help Man's Best Friend 'Angel' to See Again!"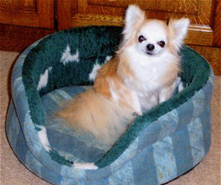 I thought you might be interested to know Bright Eyes also helps man's best friend. Our Chihuahua had the first signs of cataracts with her eyes becoming opaque. After using Bright Eyes twice a day for four months her eyes became completely black again. I continued for a further two months to make sure they stayed clear. I am now using Bright Eyes as my optician informs me I have cataracts forming. I hope it works for me as well as it did for our dog.
– Mr. R. B. Kent, UK
---
"Winning the 'Battle of Entropion' Against a 70Kg TANK!"
Dear Ethos: Our dog "Tank", a 70 Kg, Boerboel, who at 5 months manifested a condition called Entropion (his eyelids were turning in and scraping his corneas), and was very miserable. This is usually fixed by surgery, but you have to wait until the head is full grown. We had to wait 5 months. During that time, we tried other lubricant eye drops, but none worked as good as Bright Eyes. Tank would come up and blink a few times for his eye drops, when his eyes hurt. He has since had the surgery, but he still asks for his eye drops occasionally. We have had other older dogs that we have used the Bright Eyes on to keep them from getting cataracts. Prevention is always better than cure in my book!
Thanks for such a great product, and, of course, we always use them ourselves too.
Sincerely,
Candy Ostman, Los Angeles, USA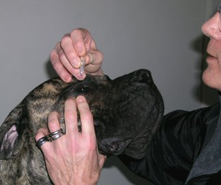 ---
"Charlie Dog can see to walk without being on his lead again!"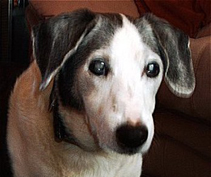 Charlie dog has given his approval to use his photo which I will attach to this Email. I have a number of shots of him but this one shows off his features quite well, including his eyes which are both being treated with Bright Eyes.
Charlie is now 16 years old as far as we can tell as he was a rescue dog who was only going to stay with us for 2 days until Jo (Our daughter) could find him a home as he was due to be put down that weekend! As you can see 14 years later he is still alive and enjoying life and still with us. Over the last 2 years he has developed cataracts, in one eye initially, and last year the second eye has gone the same way. As Jo had spoken with you re the eye drops we have since over the last six weeks been administering Bright Eyes to both eyes and to date there has been a noticeable improvement in his sight and his confidence and personality have had a big boost.
We have over the last few months had to restrict his walks only on a lead as he would get completely disorientated – but this last week we have allowed him to walk without a lead albeit with a watchful eye from ourselves. This would not have been possible a month or two ago. We believe the improvement is slow but nevertheless has improved enough already to give him a better quality of life in his Autumnal years.
Please feel free Pete, to use any information you need out of this brief text and I will try to keep you updated to his progresses as we go along. Good news about the other trials and I will try and see the Richard and Judy Show when it is screened Thanks again Pete and kindest regards and success for the future to all the team!
Ian Dormon, Tunbridge Wells, Kent
---
"Good reports of the effectiveness of the drops continue to pour in and I know that whenever my own eyes feel tired, a few drops almost immediately produces the effect "I can see clearly now, the rain has gone". – Jane Lilly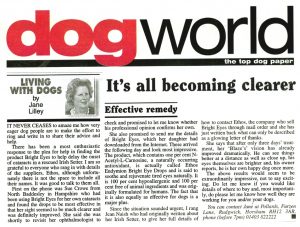 Click Here to read the Dogs World Feature

Instructions for Use
The suggested use of Bright Eyes for Cataracts for Pets is to apply one drop in each eye, at least three times every day. Those with any kind of eye problems i.e. cataracts etc., should apply one drop several times a day or every two hours whenever possible, in each affected eye for maximum benefit. Although when treating only one eye, it would be advisable to apply one or two drops per day in the other eye to maintain good eye health in that eye also.
Notes
The re-sealable bottles allow for a small amount of product to be exposed to oxygen and bacteria, the unopened bottles can be stored in a dark cool place; however, once opened, they should still be stored in a dark cool place if possible; please note that in very hot, humid conditions opened bottles should be refrigerated to extend shelf life.
IMPORTANT: There are restrictions on the sale of this product in the UK. Please contact us for more details on: 0800 970 7885 or 01803 521714
Save